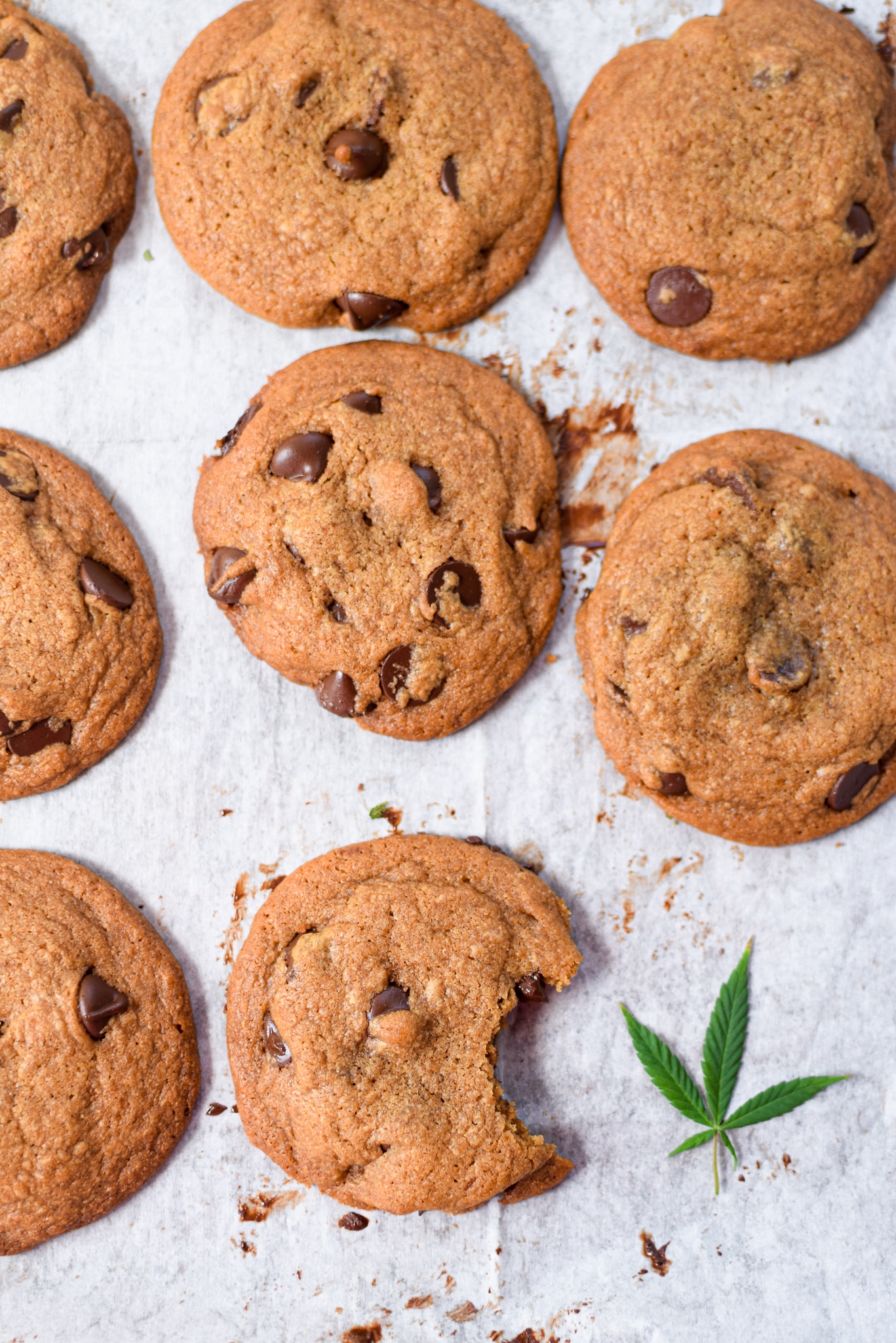 Table of Contents
 Expand 
FEATURES
A super simple recipe with over 950 positive reviews
Find multiple infusion options: cannabutter, cannabis oil, cannabis sugar, concentrates, and more
Mix it up: this dough is the perfect blank canvas for all of your favorite add-ins. Next time try M&M's, butterscotch chips, candy bits, and more
WHY YOU WILL LOVE THIS RECIPE
There is nothing better than biting into a warm, gooey, perfectly crispy on the outside, doughy on the inside chocolate chip cookie – unless it's pot chocolate chip cookies!
Now, it is true. You can use any traditional cookie recipe to make a cannabis-infused cookie.
Simply swap the fat called for, like butter or oil, for cannabis butter or cannabis oil, and voila – you have a cannabis-infused cookie.
But if you're looking for the perfect cannabis chocolate chip cookie recipe that has been explicitly made to use cannabutter or oil – this is it!
My Well With Cannabis Community members are constantly raving about this recipe, and soon, you will be too!
Below, you will find one of my favorite recipes, step-by-step photos, storage instructions, expert tips, frequently asked questions, and many infusion options to make these tasty weed cookies.
P.S. If you're looking to up your edibles game, check out my Edibles Made Easy Online Cooking Course!
---
NEED SUPPORT?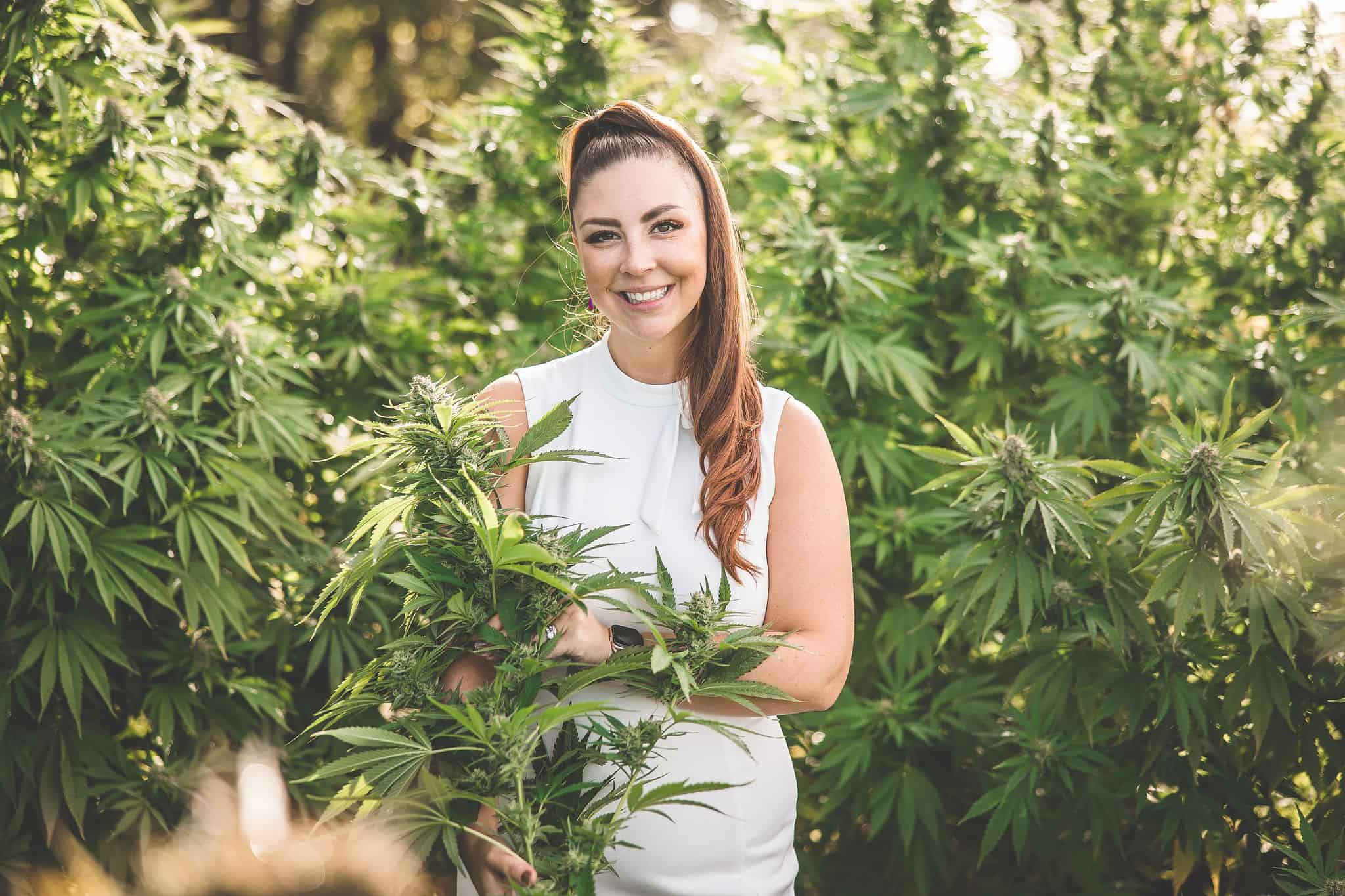 ---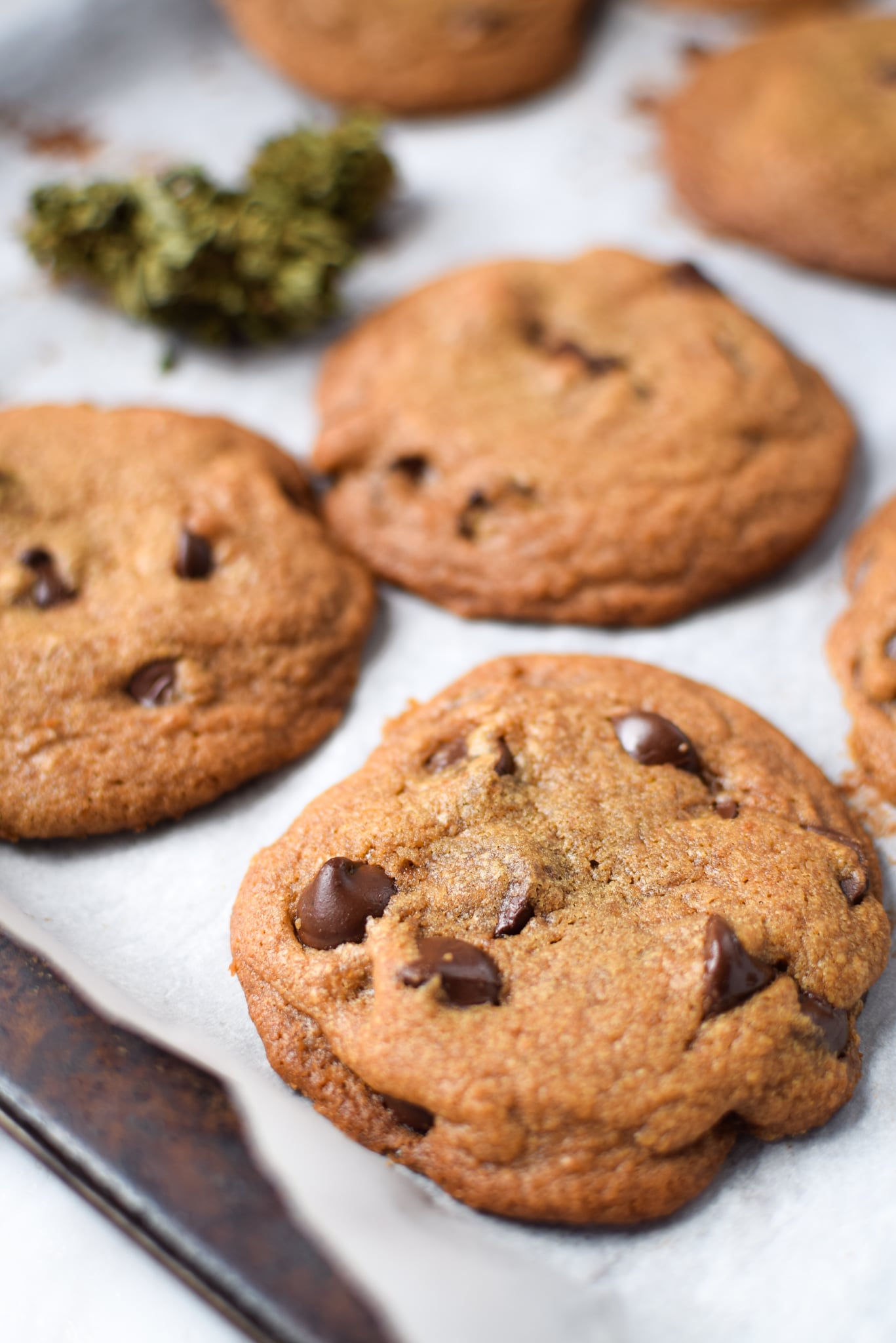 INGREDIENT NOTES
1¼ cups all-purpose flour: white, all-purpose, AP flour works best in this recipe
½ teaspoon baking soda: don't confuse this for baking powder
½ teaspoon salt: kosher salt or table salt works
½ cup cannabutter: Make this ahead of time. Start with my guide to making cannabutter in a crockpot or an Instant Pot. The cannabutter should be softened to room temperature for the best results. You can substitute cannabis coconut oil here, but it should be room temperature. You don't want to use melted butter; you want to be softened. Learn how to safely soften cannabutter here.
¾ cup sugar: I use white sugar in this recipe, but if you want, you could substitute cannabis sugar or dark brown sugar
1 egg: for consistency
½ teaspoon vanilla extract: for taste
1 cup optional toppings: This cookie batter is a blank canvas. Feel free to add chocolate chips, M&M's, sea salt, or even your favorite healthy ingredients, like nuts. One cup seems to be a perfect balance, but add more if you want a higher chocolate ratio.
There are many different ways you can infuse this recipe. Find them under the Alternate Infusion Options section below.
Note: a complete list of ingredients with amounts and printable instructions is located in the recipe card below.
THE STEP-BY-STEP PROCESS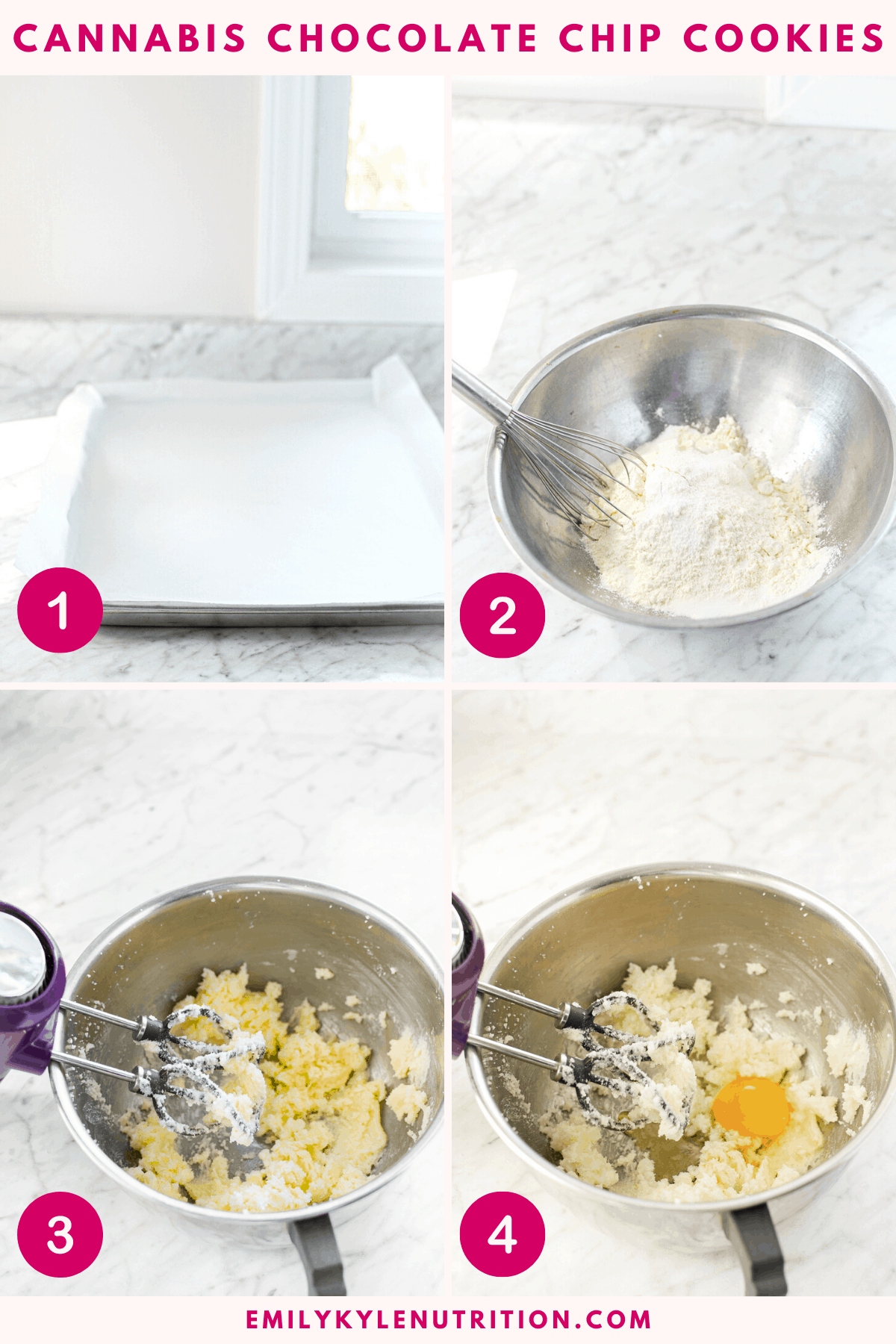 Step 1 – Preheat the oven to 375°F. Line two cookie sheets with parchment paper and set them aside. A greased baking sheet will work, too.
Step 2 – Whisk the dry ingredients: flour, baking soda, and salt in a large bowl. Set this aside.
Step 3 – In another large, separate bowl, cream the butter and sugar with a hand mixer until light and fluffy, approximately 2-3 minutes.
Step 4 – Add the egg and vanilla to the creamed butter bowl.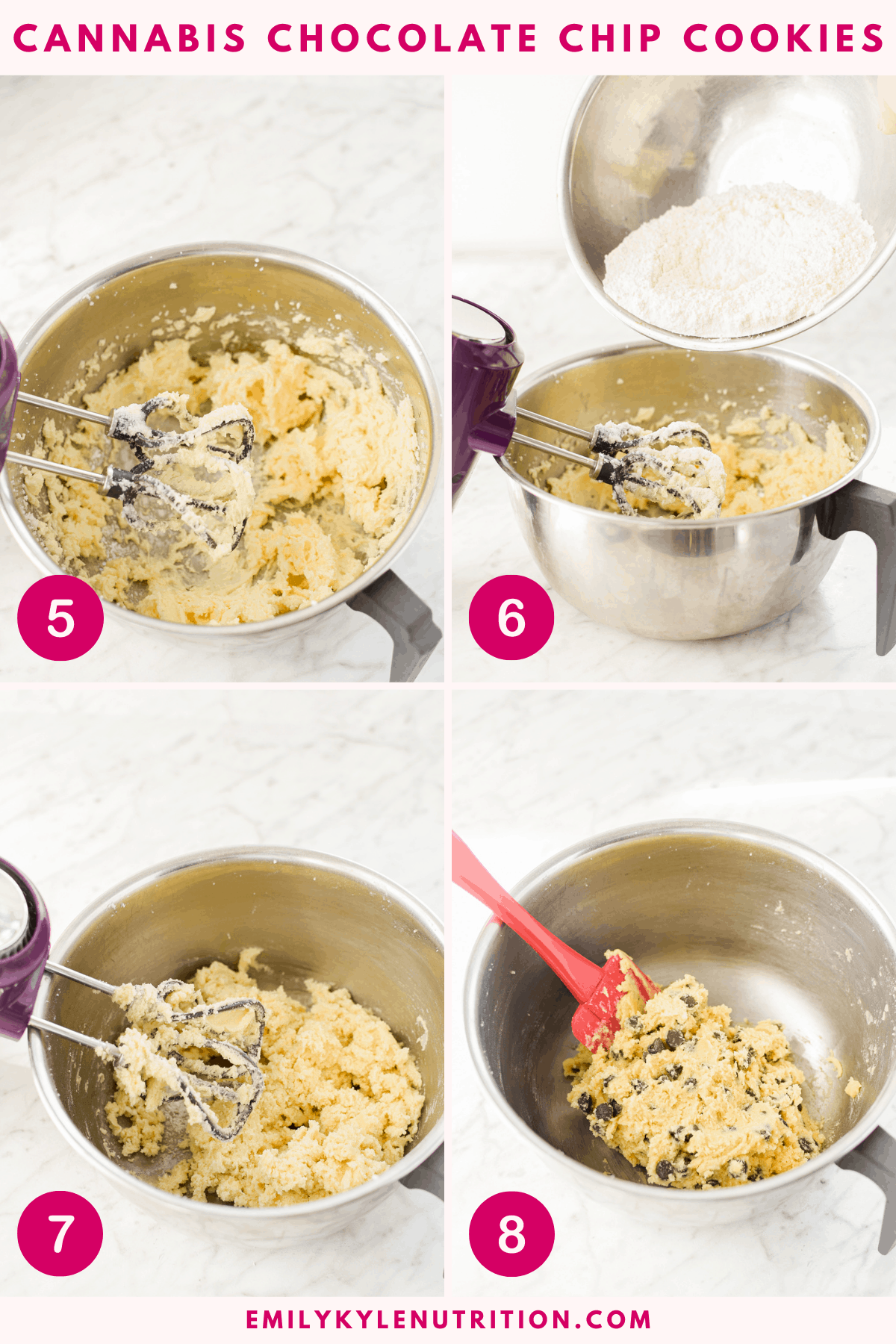 Step 5 – Starting at a low speed and gradually increasing, beat well with the mixer.
Step 6 – Gradually add the dry ingredients to the wet ingredients while mixing.
Step 7 – Mix until all ingredients are well incorporated, and a dough has formed.
Step 8 – Fold in the chocolate chips when the dough has formed.
Step 9 – Create one tablespoon-sized dough balls (using a #70 scoop) and place them evenly 2″ apart on the reserved baking sheets.
Step 10 – Bake in the oven for 7-10 minutes or until they are perfectly golden brown. See baking notes below.
Step 11 – Remove from the oven and allow the cookies to cool for 1-2 minutes before removing them from the baking sheet and transferring them to a cooling rack.
Step 12 – Enjoy!
Note: complete step-by-step printable instructions are located in the recipe card below.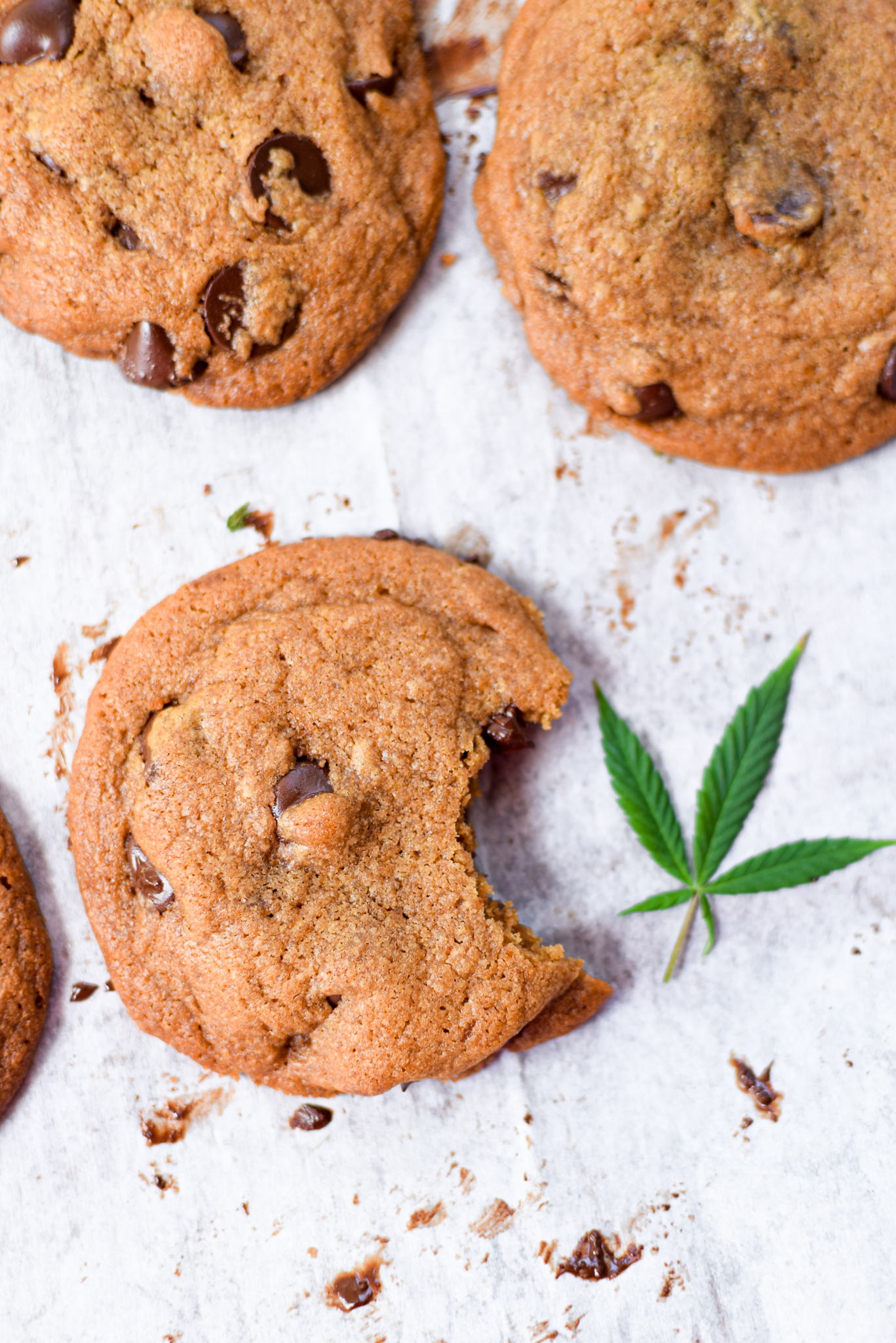 STORAGE INSTRUCTIONS
Store in an airtight container at room temperature for up to 7 days. These cannabis chocolate chip cookies have the same shelf life as any other cookies. Freeze after seven days to prevent spoilage. Additionally, storing these cookies in an air-tight container with a slice of bread will keep them soft and moist. Learn more about how to store edibles here.
ALTERNATE CANNABIS INFUSION OPTIONS
As with all things edibles, there is more than one way to infuse something. Below we will explore how you could infuse these powerful little treats with your favorite secret ingredient.
Cannabutter or Coconut Oil: This is the most popular way to infuse. Choose between these staple recipes essential for every kitchen: coconut oil, crockpot annabutter, Instant pot cannabutter, or kief cannabutter. You can adjust the amount of cannabutter used alongside regular butter to control your dose if needed. Note: using liquid oils, like MCT oil or olive oil, may negatively affect the final product.
Cannabis Sugar: You can make these cookies with cannabis-infused sugar if you have some on hand. Simply swap the infused sugar for white sugar.
Both: You could also use both infused oil or butter and infused sugar for an extra potent batch of cookies.
Concentrates and Extracts: Easily make these cookies with concentrates like distillate or FECO. Just be sure to check if your concentrate needs to be decarbed first. Then, simply mix the concentrate with ½ cup of normal butter or organic coconut oil, and then prepare the recipe according to the instructions below with your butter mixture.
Tincture: if you want to use an alcohol-based cannabis extract in this recipe, be sure to evaporate the alcohol and make FECO first.
Decarbed Flower: While it's not my favorite way, you can add decarbed flower or decarbed kief right into this recipe and the flour mixture. Just be mindful of adding the right dose for you, especially if you are not a regular consumer of edibles.
NOTES AND EXPERT TIPS
Baking note: All ovens bake at different temperatures, and 9 minutes is an average baking time. Some ovens will bake quicker, so check your cookies for your desired doneness between 7-10 minutes. Bake time will also depend on the size of your dough balls. Small balls will bake faster than larger ones. Adjust accordingly to find your perfect texture.
Edibles can be potent: If you have never had edibles before, it is essential to note that they will likely affect you differently than inhalation, topical, or sublingual application methods. Your experience may also be different if you use an Indica or Sativa strain.
Edibles have a delayed onset: Edibles take 30-minutes to several hours to hit and can last 6-12 hours, so don't reach for that second helping so quickly! You want to make sure your high time is a good time 🙂 If you accidentally get too high, check out these solutions here.
Be safe: When it comes to cannabis edibles, please, start low and go SLOW! Your experience will be entirely dependent on your own endocannabinoid system.
Be prepared: learn how to easily make the staple recipes needed to infuse this recipe, like cannabutter and cannabis sugar, with my Cannabis Cookbook!
Gift mindfully: these great-tasting cookies make great gifts for a holiday party or special occasion. Just be mindful of the amount of THC you add to your edible recipes if you give them away.
FREQUENTLY ASKED QUESTIONS
Even cookies can be brand new to even the most seasoned cannabis consumer. Here are some of the most common FAQs I get asked about these delicious fluffy cannabis chocolate chip cookies from my Well With Cannabis Community.
Can I make CBD chocolate chip cookies?
Yes, check out my guide for making CBD chocolate chip cookies here.
Can I make this recipe gluten-free?
There are so many great gluten-free flour alternatives that swap pretty well for traditional all-purpose flour. You can grab gluten-free all-purpose flour at most grocery stores. This is the all-purpose gluten-free flour I recommend for gluten-free baking.
Can I make this recipe dairy-free?
Yes! To make delicious dairy-free cannabis chocolate chip cookies you want to make sure you do two things: 1. Use cannabis coconut oil instead of cannabutter 2. Verify your chocolate chips are dairy-free. This is the dairy-free chocolate chip brand I recommend for dairy-free baking.
Can I add other natural flavorings?
Yes, this dough is similar to sugar cookies, making it easy to customize these sweet treats. Just add a small amount if you're adding an extract like vanilla, lemon, mint, or almond extract, as the natural and artificial flavor can be overwhelming.
How to calculate the mg THC in each cookie?
If you're using cannabutter, your first step will be to know how much THC is in your batch of cannabutter. Use my popular edible dosage calculator if you need help with this. If this is your first time, know that you will need to know how much cannabis you added in weight and how potent it is in percent.
How can I manage the munchies?
Edibles can give you the munchies, which may not always be a good thing. Cannabis can help with weight loss, but only in the right circumstances. Check out these healthy cannabis recipes if you need something different!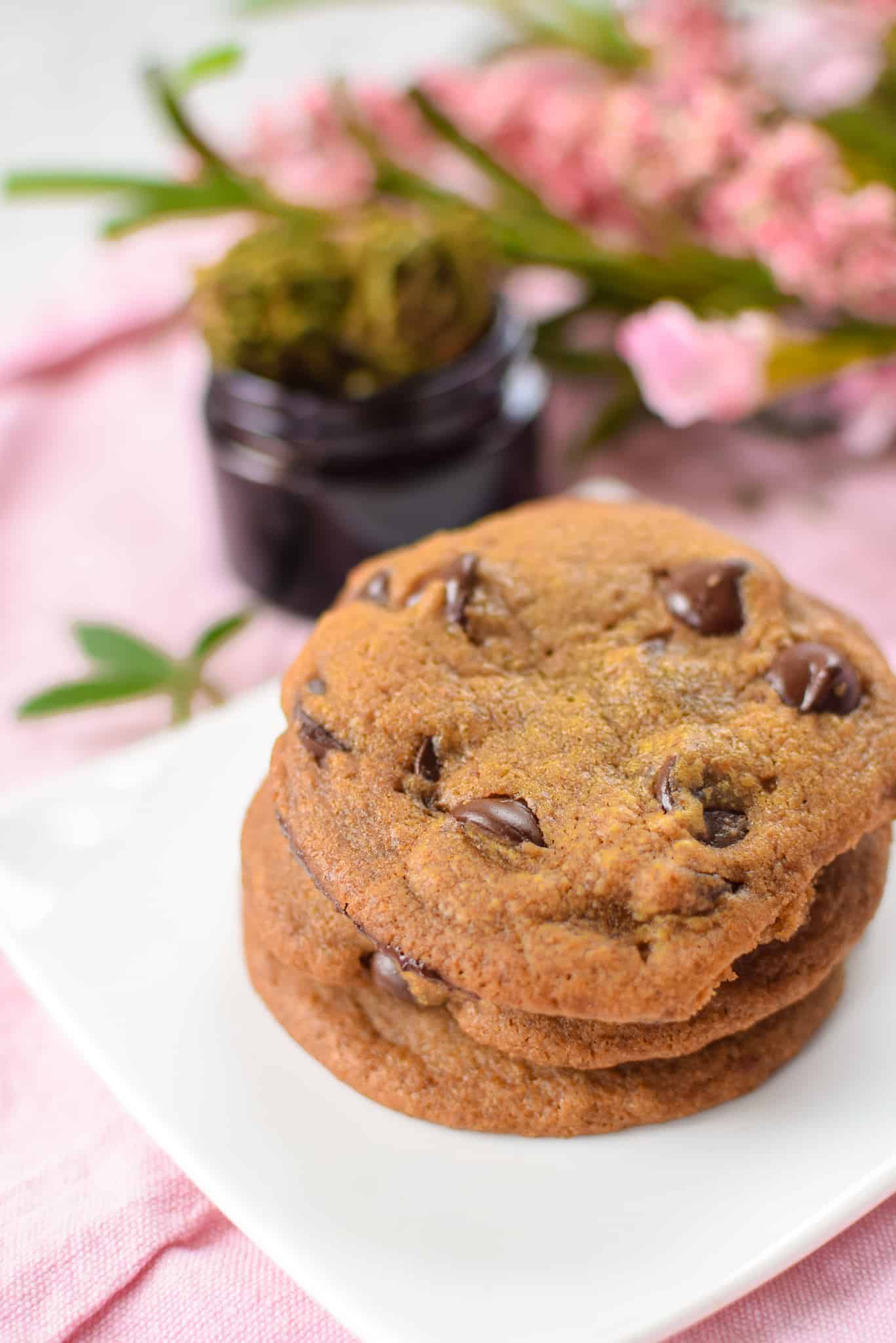 HOW TO DETERMINE THE DOSING
Want to get a more accurate guesstimate of the potency of your cannabis infusions and extractions? Try our popular edibles calculator!
Not sure what your perfect dose is? Learn more here.
WANT TO MAKE THIS EASIER? USE A MACHINE!
If the process of decarbing and infusing feels like too much work, an all-in-one countertop device may be a perfect all-in-one solution.
My personal favorites? The LEVO and Ardent FX, but you can review the most popular infusion machines here.